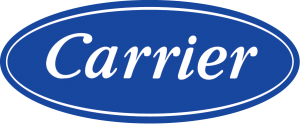 Built on Willis Carrier's invention of modern air conditioning in 1902, Carrier is a world leader in heating, air-conditioning and refrigeration solutions. We constantly build upon our history of proven innovation with new products and services that improve global comfort and efficiency.
MEETING CUSTOMER NEEDS
Carrier delivers global solutions across a broad range of applications in heating, airconditioning, refrigeration and beyond.
Home comfort
Carrier heating and air-conditioning systems are trusted to bring energy-efficient, quiet, consistent comfort to millions of people at home.
Building solutions
Carrier provides sustainable solutions in heating, air-conditioning, building automation and energy services for the building life-cycle.
UNMATCHED QUALITY AND EXPERTISE
Renowned hotels, international airports, historical museums, major hospitals  and leading industries. All over the world rely on Carrier equipment to provide comfortable, healthy and productive environment to their guests & residents.
COMMITMENT TO ENVIRONMENTAL RESPONSIBILITY
Green products start at a green company. At Carrier, environmental stewardship is a core value that is reflected daily in its products, services and operations, and in the culture of its enterprise. Preservation of the environment and protecting our finite natural resources remains a central tenet of the business, and it actively share its sustainability expertise in the marketplace.
INNOVTATION & IMPROVEMENT
Τhe words "innovation" and "improvement" represents Carrier's search and belief in continuous improvement of its products and services. Its customers' experience and its environmental impact. Carrier aims to improve people's lives through indoor environmental control, preservation of food supplies around the world and the search for solutions that minimize the impact on the natural environment.